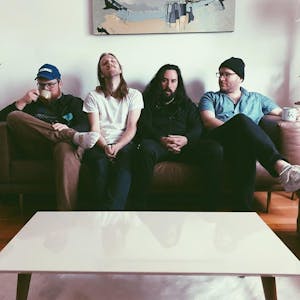 MESSIMER, Josiah Johnson, Emily Brown at the Hotel Utah Saloon in San Francisco ! Show begins at 8pm.
Hailing from Boise Idaho, MESSIMER creates a sound that is 1/4 Revolver, 2/3 Nilsson Schmilsson, a ton of Pinkerton, and something entirely unique
"If Violent Femmes & Ezra Furman had crossed paths and pieced together a collaboration" - Velvet Independent
"Boise-based indie rock band MESSIMER are entirely one-of-a-kind" - The Music Mermaid
"MESSIMER's early batch of songs reveals the rawboned honesty of a writer comfortable to look in the mirror" - Buzzbands LA
www.messimermusic.weebly.com
www.instagram.com/messimermusic
Josiah is best known for being a founding member of The Head and the Heart. He took a break from that work a few years ago to learn how to live more wholly integrated and to work with and through problems with addictions. His expanding solo creations are transcendent, healing folk songs. Deep and soulful ballads that paint the imagination with rich and emotional landscapes of love, loss and transformation. Josiah's solo performances highlight a stripped down, emotive, lyrics-and-voice-first kind of song craft, inimitable in its sincerity and beauty, with the powerful joy of singing together.
www.josiahsjohnsons.com
www.instagram.com/josiahjohnson/
Emily Brown is a songer and a singwriter who lives rightly in the city of Oakland, California. Performing sometimes in California and erstwhile in Utah her music she sings it and also plays such instruments as the guitar and the piano, growing in her abilities and being exceedingly funny in between the musical numbers while upon the proscenium or stage.

https://emilybrown.bandcamp.com/

Venue Information:
The Hotel Utah Saloon
500 4th Street
San Francisco, CA, 94107